Gift buying for that special man in your life can sometimes be a challenge when you are trying to think outside of the box. Forget the usual tie, scarf, socks and boxer briefs. We are really pushing the boat out here at Malée with a few inexpensive as well as bank busting ideas to help you find the perfect gift for him.
Our top gift ideas for men this year are:
– New reading glasses: Why not update his look with exciting new frames that will help channel his alter ego.
– Stylish pen and pocket friendly notebooks: Who said technology had completely taken over?
– DSLR hybrid point and shoot camera: Capturing and documenting special moments are priceless.
– Apple watch: More than just a stylish looking watch, this little gadget has awesome apps that help track everything; calories burned, activity time and syncs with almost every app that is part of the modern-day 21st century.
– IPhone: We hate to be biased but the Apple watch needs an IPhone, so for good budget friendly measures perhaps a new case to match the IPhone strap or break the bank with the new IPhone upgrade.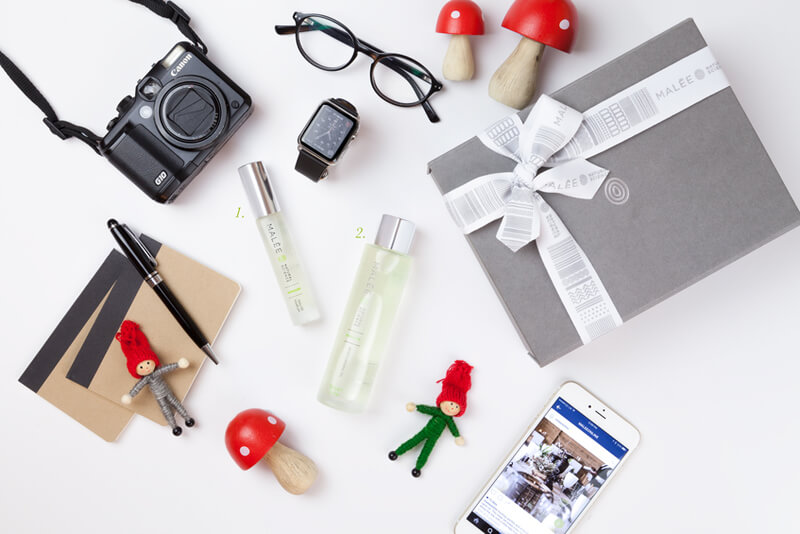 If that didn't get your gift ideas going, perhaps these two Malée products will:
Verdure Eau De Perfume: Discreet enough to fit into any travel luggage, this travel friendly 12ml perfume is formulated with 15% fragrance oils and will keep him smelling fresh all day long.
Malee's Verdure Moisturising Oil: This 5-in-1 moisturising oil in our fresh and rejuvenating Verdure scent is formulated to be non-greasy, light, nourishing and softening. A true multi-tasking product he can apply to his hair, beard, nails, skin, hands and use in his bath.
And that's not all, take the fuss out of wrapping your Malée purchase and gift wrap with Malée for just £5 at checkout.
You can call us Santa's little helpers!
Share your gift wrap moments with us @maleeonline on social media #giftwrapwithmalee