The ancient art of traditional African skincare beauty tips is passed on from mother to daughter over centuries, African beauty rituals and beauty tips have long been known as the ideal solution for black skincare. As a result of Africa's wealth of natural resources and natural active ingredients for healthy skin. Most African beauty rituals and traditions make use of pure essential oils known for their healing and nourishing properties. And inspired by these African beauty rituals, Malée's luxurious range of bath and fragrance products is perfect for all your skin care needs.
3 AFRICAN SKINCARE ROUTINE BEAUTY TIPS
Take a look at these timeless African beauty rituals and beauty tips to perfect your beauty regime.
1. THE NOURISHING ESSENCE OF ARGAN OIL
THE HAMMAM RITUAL
The Turkish Steam Bath, known as a Hamman, is an ancient African beauty ritual used by North African woman to purify their bodies and bond with their female friends and family. Treasured for its deeply nourishing properties, Argan Oil is a key ingredient in the regime.
Consequently extracts from Argan Oil are used to create a mixture known as beldi soap. Used all over their skin to create a full-body mask. The Argan Oil is gradually absorbed deep into the pores of the skin. Finally, a 'kessa' stone, that acts as an exfoliating mitt to clean out pores and remove dead skin cells is used.
THE BEAUTY BENEFITS
Full of skin-loving nutrients and antioxidants, Argan Oil contains natural healing properties that are effective in reducing acne and scarring. Furthermore, Vitamin E removes damaged skin cells and encourages new ones to grow. High in sterol, an ingredient that helps hydrate and retain skin's natural elasticity. Lastly, but certainly not least, Argan Oil is a wonder worker for hair, nourishing damaged ends and adding a glossy shine to your locks.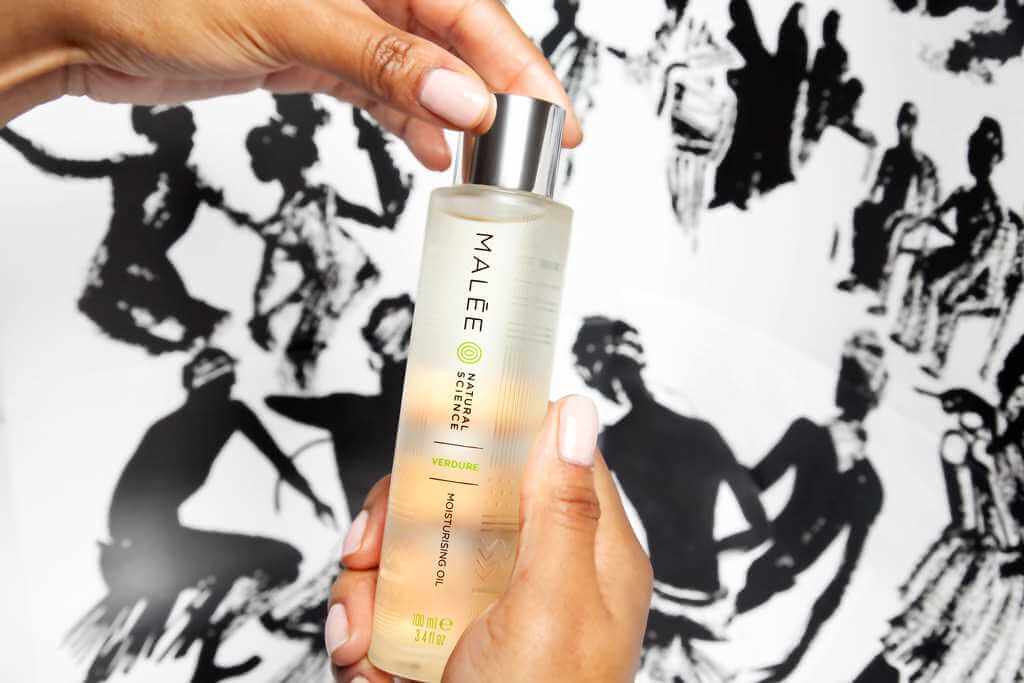 MALÉE'S BEAUTY SOLUTION
Complete with its very own beauty tip, our 5-in-1 Verdure Moisturising Oil is rich in Argan Oil and other powerful essential oils renowned for their nourishing, restorative and healing properties. This impressive combination of vitamins, fatty acids and skin-tightening peptides can be used on hair, nails, skin, hands, and in the bath.
2. THE HYDRATING POWER OF SHEA BUTTER
THE AFRICAN BLACK SOAP RITUAL
Shea Butter has been used in West and Central Africa for centuries. A natural UV-protector and moisturiser, It has been long proven to be ideal and beneficial for healthy skin. Furthermore, it has a long history of medicinal use, including wound care and even treating leprosy.
Because of its intensely soothing and hydrating properties, it's also a popular ingredient in African Black Soap. As a result African women having been hand making this soap for centuries by drying and roasting the leaves of sweet potato plants and cocoa pods, then crushing them into a fine ash. Finally, they then add a few drop of Shea Butter, coconut oil and palm oil to create a rich, intense soap with powerful exfoliating properties.
THE BEAUTY BENEFITS
While the concentration of natural vitamins and fatty acids in Shea Butter make it incredibly nourishing and moisturising for skin. In conclusion, Shea Butter has been found to reduce inflammation and boost the skin's natural collagen production for firmer, plumper, more youthful skin.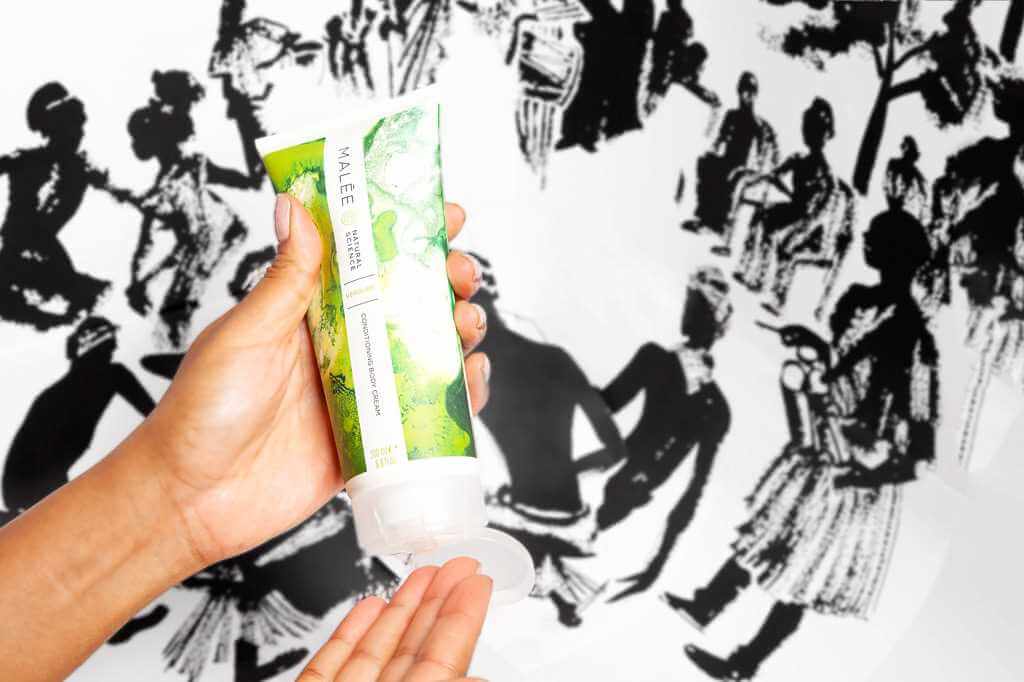 MALÉE'S BEAUTY SOLUTION
Due to its high Shea butter content, our Verdure Conditioning Body Cream nourishes, soothes, smoothes and repairs dry, dull skin. Most of all, it is formulated with the rich moisture of a butter and lightness of a lotion, this non-greasy body cream is the perfect way to revitalise and plump up your skin.
3. THE REGENERATIVE EFFECTS OF SALT AND SUGAR
THE EXFOLIATION BEAUTY RITUAL
Cleopatra recognised the benefits of adding Dead Sea salt into her bath. Beauty tips well represented in books and movies which is now known to combat stress and ageing. Consequently, sugar has highly beneficial properties for skin, namely as an exfoliant. In the Congo, sugar cane forms the base of many women's beauty and skincare routines. Because of its alpha hydroxy acids that reduce blemishes, prevent ageing and keep skin silky smooth to the touch.
THE BEAUTY BENEFITS
Because exfoliating with sugar and salt is a vital part of maintaining a healthy and youthful glow. This highly effective combination buffs away dead skin cells, ingrown hairs and boosts the circulation of blood in the body.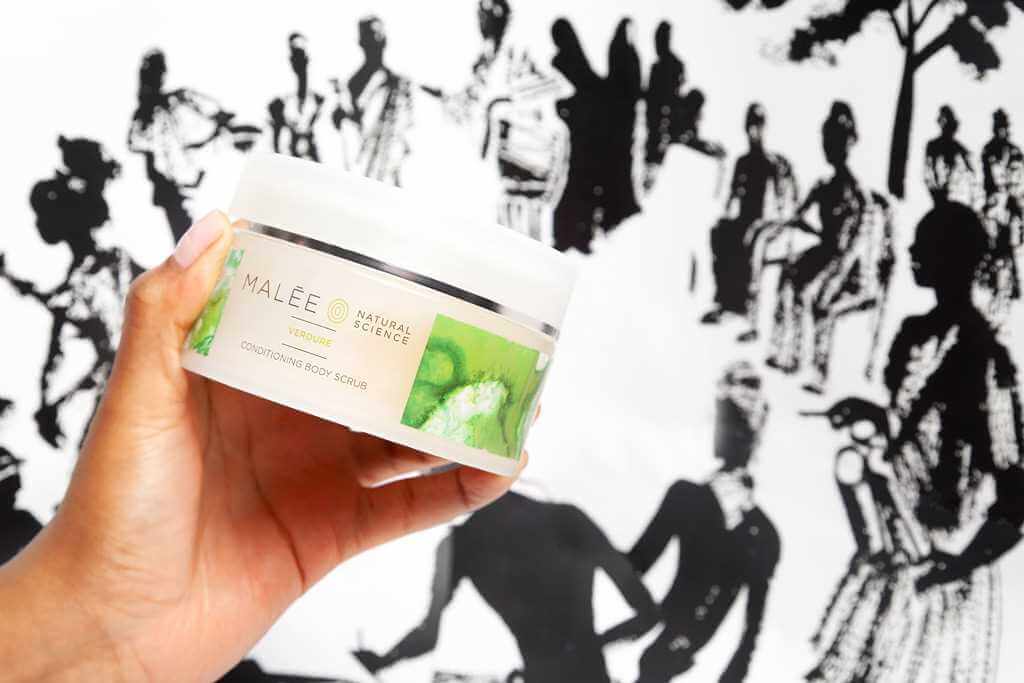 MALÉE'S BEAUTY SOLUTION
Our award-winning Verdure Conditioning body scrub uses a gentle yet effective combination of multi-grain natural salt, skin-loving oils and sugar. As a result, the naturally occurring alpha hydroxy acids draw in moisture, smooth away imperfections and reveal healthy, youthful skin beneath.