Beauty essentials for jetset travellers, whether you're a high-powered executive flying for business or a leisure seeker heading out on holiday – your skin care routine needs some extra TLC when you travel. Due to changes in climate, temperature and general travel weariness, your skin can end up looking dry, tired, and therefore looking less than perfect for the boardroom or the beach.
Consequently, Malée's range of natural skin care products are perfectly travel sized and packed with skin-loving organic ingredients guaranteed to soothe, protect and nourish your skin from take-off to touchdown and beyond.
DISCOVER OUR TOP 3 BEAUTY AND SKIN CARE ESSENTIALS FOR JETSET TRAVELLERS.
WAVE GOODBYE TO DRY HANDS WITH MALEE'S NOURISHING HAND CREAM
First of all, chapped, dry hands are a harsh reality of travel. From dry cabin air on your flight, using hand sanitiser on the go, or salty ocean water from swimming, your hands, cuticles and nails need extra protection when you're on the go. Therefore, keep your skin smooth, hydrated and feeling fresh with our Nourishing Hand Cream. Because it's scientifically proven to intensely condition and repair, this light yet nourishing formula is like having a mini-manicure on the move and the skin care essential for jetset travellers.
Travel beauty tip:
Squeeze a pea-size amount into the palm of your hand and gently massage your skin. Pay special attention to dry skin on knuckles, cuticles and nails.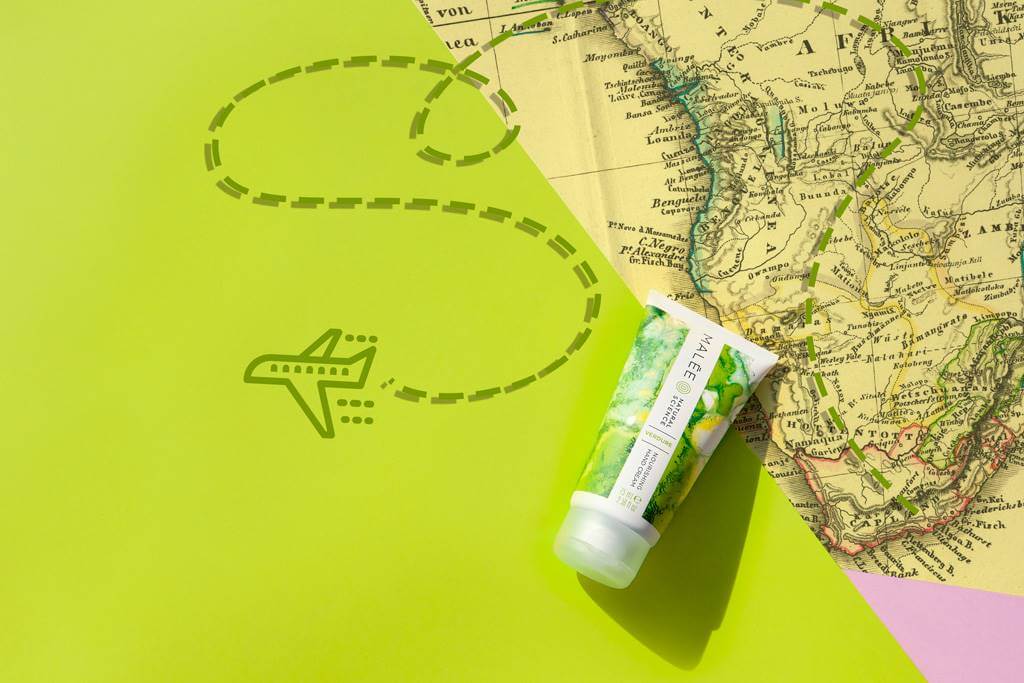 EXPERIENCE THE ALL-IN-ONE BEAUTY SOLUTION WITH MALEE'S MOISTURISING OIL
Probably the most important means to a smooth journey is to travel light. The last thing you need is to be bogged down by a big bag full of beauty and skin care products. Therefore, why not go for a versatile 5-in-1 solution that can be used to solve all your skin, hair and nail needs at once? Malée's miracle Moisturising Oil is packed with super-concentrated vitamins, fatty acids and skin-tightening peptides which soothe, repair and nourish your body from top to toe, while the super sleek container slides right your vanity bag, thus being a beauty essential for jetset travellers.
Travel beauty tip:
Massage your skin, hands and nails to hydrate and replenish whenever you need an intense moisture boost. In addition, sprinkle a few drops into a lukewarm bath for a luxurious all-over moisturising soak. And use it as a pre-shampoo to smooth out frizz from humidity or brittleness from windy, cold weather.
AWAKEN YOUR WANDERLUST WITH VERDURE EAU DE PERFUME
Finally, seasoned travellers and novices alike will experience the tiring effects that long-haul travel can have. The dry cabin air conditioning, interrupted sleep and jet lag can make you feel a bit moody and stressed. That's where the healing power of aromatherapy comes in. Most noteworthy, aromatherapy has been used to uplift the senses, release happy hormones and re-energise body and mind for generations. Consequently, Malée's unique Verdure fragrance refreshes your senses with a bright, energising burst of citrus, followed by refreshing mint grounded in warm, earthy patchouli. Patchouli is particularly well known for its powerful ability to induce the production of dopamine – the body's natural solution to anxiety and stress, a fantastic aromatherapy oil and beauty essential for jetset travellers.
Travel beauty tip:
Add a spritz of Verdure Eau de Perfume to your pulse points, including your collarbone, back of the neck, hairline, wrists, and the back of your knees. Don't rub it in, as this will decrease the scent duration. Also, you can lightly spritz your hair for long-lasting freshness throughout the day.