There's a lot to look forward to when it comes to holiday. But dry skin, frizzy hair and other beauty concerns and skin conditions certainly aren't on the travel essential's list. Hence, Malée's travel-friendly range of 100% natural beauty products has all your skin care needs covered en route and at your destination.
Take a look at these three essential skin care products to bring on your summer holiday.
TRAVEL ESSENTIAL NO. 1: MALÉE MOISTURISING OIL
Probably the one travel essential beauty product you simply can't do without is Malée's Moisturising Oil. This 5-in-1 blend of super-concentrated vitamins, fatty acids and skin-tightening peptides can be used on your hair, nails, skin, hands, and in the bath. Including a highly effective combination of essential oils, this miracle beauty essential combats a range of irritated and dry skin conditions – soothing, protecting and moisturising your skin regardless the weather. Furthermore, the stylishly slim bottle slips easily into your travel bag. And because it's the perfect solution for a range of skin conditions, you don't need to lug around a bulky case filled with unnecessary beauty products too.
So, you can use Malée Moisturising Oil as a pre-shampoo to protect your hair from the drying and frizz-inducing effects of sun damage. Massage your skin using this oil to banish dry skin conditions and give you an all-over glow. And add a few drops to a lukewarm bath for a full-body skin care treatment.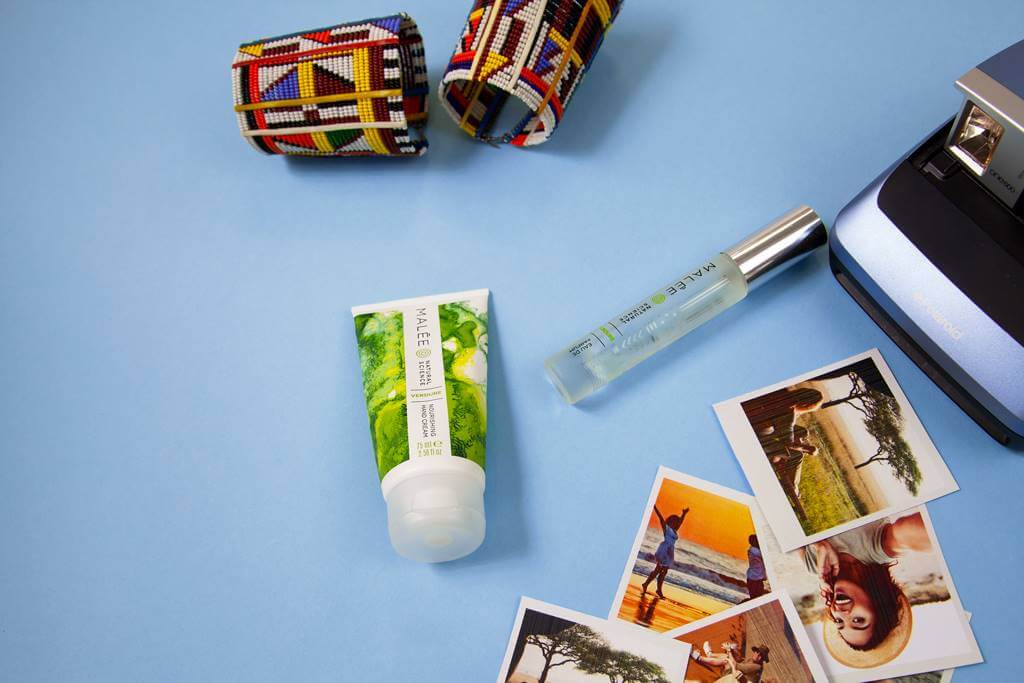 TRAVEL ESSENTIAL NO. 2: MALÉE CONDITIONING HAND CREAM
As one of the most exposed parts of your body, your hands need a lot of extra care to help protect them from the effects of sun damage. Therefore, keep your skin smooth and hydrated with our Nourishing Hand Cream. Perfect for soothing cracked, tired-looking and dry hands, this light yet intensely moisturising formula is the perfect handbag companion when you're on-the-go.
For best effects, squeeze a pea-size amount into the palm of your hand and gently massage your skin. Pay special attention to dry skin on knuckles, cuticles and nails.
TRAVEL ESSENTIAL NO. 3: MALÉE VERDURE EAU DE PERFUME
Whether you're travelling long distances by road or air, the long hours spent in the car or on a plane can be exhausting. Another thing to consider is the dry, stuffy cabin air that plays havoc with your skin. Beat the travel blues with a spritz of uplifting Verdure Eau de Perfume. Malée's unique Verdure fragrance inspires your senses with a bright, energising burst of citrus, followed by refreshing mint grounded in warm, earthy patchouli. Due to the power of aromatherapy, this invigorating scent encourages relaxation and reduces stress.
Add a spritz of Verdure Eau de Perfume to your pulse points, including your collarbone, back of the neck, hairline, wrists, and the back of your knees. Don't rub it in, as this will decrease the scent duration. Also, you can lightly spritz your hair for long-lasting freshness throughout the day.