In response to the pandemic, a 2020 survey from the National Opinion Research Center stated that 88% of people asked reported they were washing their hands more frequently. We know this is an essential way to promote good hygiene and prevent the spread of diseases and a 2006 study published by the National Library of Medicine found that 'hand cleansing can cut the risk of respiratory infection by 16%'.
But why does frequent hand washing sometimes lead to dry skin? And what hand washing steps can we take to prevent or soothe skin, which is dry, itchy, or red?
WHAT DOES HAND WASHING DO TO OUR SKIN?
The outermost layer of the skin, also know as the stratum corneum, is the primary protective layer of the body. It is the most resilient layer of skin, helping to prevent toxins from penetrating deeper layers whilst also working to retain moisture. The stratum corneum is formed of corneocytes, which are microscopic cells mainly made up of keratin proteins and held together by lipids, comprised of cholesterol, fatty acids, and ceramides which act as mortar for the top layer of skin cells.
However, these can be broken down by frequent hand washing as soap does not discriminate between dirt and the natural oils and molecules of the skin. The soap binds to the keratin proteins, which allows moisture to escape from the skin and prevents regular cell turnover. Prolonged exposure to water can also have the same effects, with a 2003 study published by the Journal of Investigative Dermatology stating that water increases the skin's permeability and can disrupt the structure of the stratum corneum. This can lead to skin which becomes dry, itchy, sore, or even cracked, allowing bacteria to penetrate the skin more easily.
3 SIMPLE HAND WASHING STEPS TO PREVENT AND SOOTHE DRY SKIN
There are 3 simple hand washing steps for dry skin, which take into account the advice from the World Health Organization on the best way to cleanse, whilst ensuring skin remains soft, smooth and protected after.
– Use a gentle soap
Soap which contains harsh chemicals or a large volume of alcohol can cause greater damage to the skin's protective barrier. To protect your skin, use a small amount of fragrance-free hand soap, just enough to cover the hands without applying excessive product. Those with sensitive skin can also opt for soap-free handwash which contain synthetic detergents. These cleanse just as well as soap but have a lower pH level which matches the skin, reducingdisruption to the outer layer of the skin and preventing the loss of natural oils. The World Health Organization states that hands should be washed for 20 seconds in warm water to thoroughly remove dirt and bacteria.
– Pat your hands dry
A 2012 study published by the National Institutes of Health states that bacteria can transfer more easily to wet skin and drying with a towel can achieve up to 85% dryness in just 5 seconds. Once your hands are clean, you should use a towel to pat them dry rather than roughly rubbing. Gently patting will remove excess water without risking further disruption to the stratum corneum.
– Moisturise immediately after
After drying and whilst your hands are still damp, you should immediately use moisturiser to help restore and lock in lost water. Malée's Nourishing Hand Cream works by rehydrating the skin, allowing water molecules to penetrate several layers and replace those which have been lost, whilst creating a seal over the stratum corneum. Our hand cream is formed from 100% natural ingredients, including coconut, avocado and wheat germ oil which are packed full of nutrients and fatty acids, helping to nourish and soothe the skin without clogging the pores. For particularly dry skin and an additional moisture boost, you can also apply once more before you go to bed.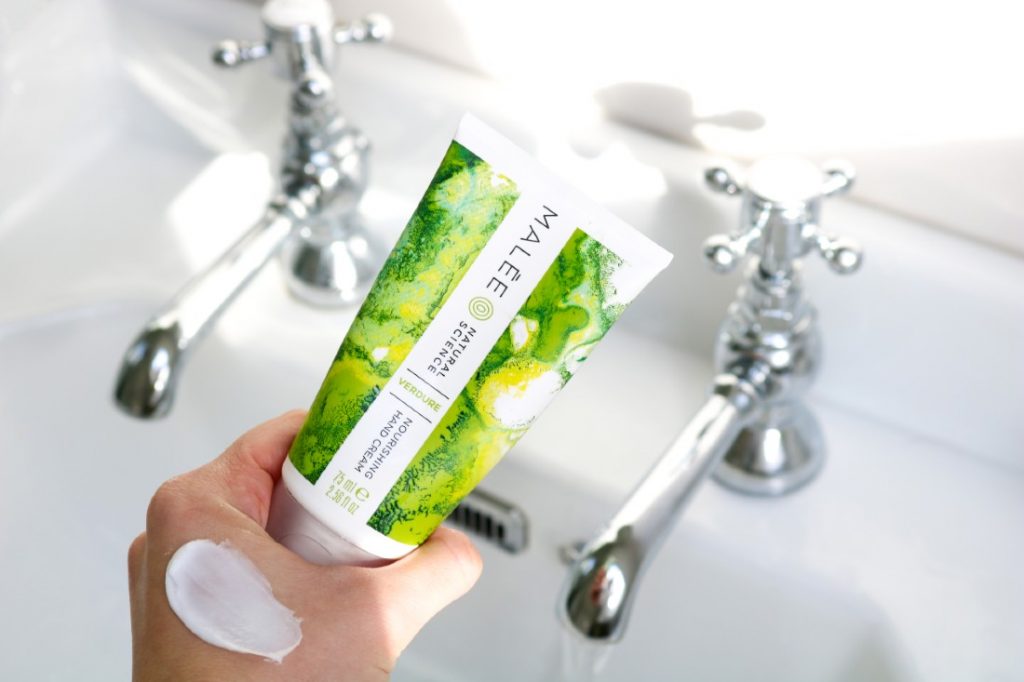 CONCLUSION
Frequent hand washing is essential to prevent the spread of bacteria but can equally be damaging to the outer layer of skin, stripping it of moisture and essential oils. To keep hands soft, smooth, and hydrated you should follow 3 simple hand washing steps. Wash them in warm water, using a gentle soap for 20 seconds, before patting dry and applying a moisturiser. This helps to replace any lost moisture and nourishes the skin, resulting in hands which are healthy, soft, and smooth.
Shop This Post