Nutritional health is at the heart of Malée and cooking classes are always a welcome addition to improving our culinary skills. It is no secret that our scents and products contain gourmand ingredients. Inspired by the age-old traditional remedies made from by-products of food from African tribes for centuries. Skincare that is good enough to eat.
Virtual cooking classes with spices and fresh ingredients and homemade spice blends sent to your home sounds like the perfect treat.
Malée Natural Science is delighted to partner with Lerato Foods and Naturals to offer one of Lerato's acclaimed virtual cooking classes for this International women's day. Lerato is one of the strongest young voices in the UK food scene and contemporary African cuisine. She started her career in food from launching a catering company. She later went on to become a Tv chef and breakfast television presenter and columnist.
While Lerato is known for her vibrant and wholesome cooking that explores the multiplicity of the rich African continent, her immersive feasts and cooking classes are sought after because they offer celebrations of the variety in dishes the Africans continent offers. Anchored by African stories, spices and local produce her cooking classes offer a place to create vibrant recipes for a family of up to 4.
Lerato's company, Lerato Foods & Naturals was founded in 2017 as a cookery school, pioneering teaching African cookery in the United Kingdom, and hosting vibrant culinary experiences bringing this largely unexplored cuisine to the homes and hearts of people in the UK and beyond. Collaborations with the likes of Waitrose – hosting cooking classes in stores across the country to create contemporary feasts, and published recipes in collaboration with Tilda Rice are a few of the strides made in order to make African foods more mainstream. Her clients are diverse from educational institutions to multinationals such as, Aviva PLC, Slack, Imperial College, Soho House Group, World Remit & more.
In 2021, Lerato Foods launched Virtual cooking classes with guests participating from across the world. Guests in mainland United Kingdom can also enjoy intricately curated recipe kits with ingredients and unique spice blends, in what is a fabulously interactive feast, bringing people today to share great food.
What we love about cooking classes with Lerato Foods?
Lerato's unique perspective can be seen in her approach to cooking and her cooking classes. She uses her personal experiences from Lagos, London and beyond and rich African traditions to create contemporary yet nostalgic recipes.
An interactive 3 course cookery experience in the form of cooking classes with ingredients delivered fresh to your doorstep by tv a chef, cookery writer and teacher. In the form of online cooking classes that are fun, interactive and informative.
Cook Lerato's Roasted Veggies with spiced Avocado and almond Butter along with Lerato on Instagram Live 2nd of March 2021, 6:00PM (GMT).
Inspired by some of our most loved ingredients in our products, Lerato will be cooking along with our Malée tribe on Instragram live her famous roasted veggies with spiced avocado & Almond butter.
The vegetable roast will be prepared in advance. Check out the recipe here.
Vegetable recipe to cook along with Instagram
What you'll need:
Ingredients for the avocado and almond butter
Flesh of 1 medium or 2 small ripe avocados
100g roasted almonds or cashews, peanuts
½ tsp turmeric
3 garlic cloves (from the veg roast)
1 tsp paprika
2 tbsp lemon juice
1 tbsp date molasses, honey or maple syrup
A handful of coriander
Sea salt & freshly ground pepper
Olive oil
Chilli flakes (optional)
Vegetable recipe to prepare in advance
Mix and match your favourite spuds or vegetables and adjust cooking time where applicable. See the full recipe HERE
Want to learn more about Lerato and her entrepreneurial journey? We sat with Lerato and asked her a few questions. This recipe is packed full of healthy oils from avocado and almonds and quite versatile as you can easily use a variety of different vegetables, making it unique every time.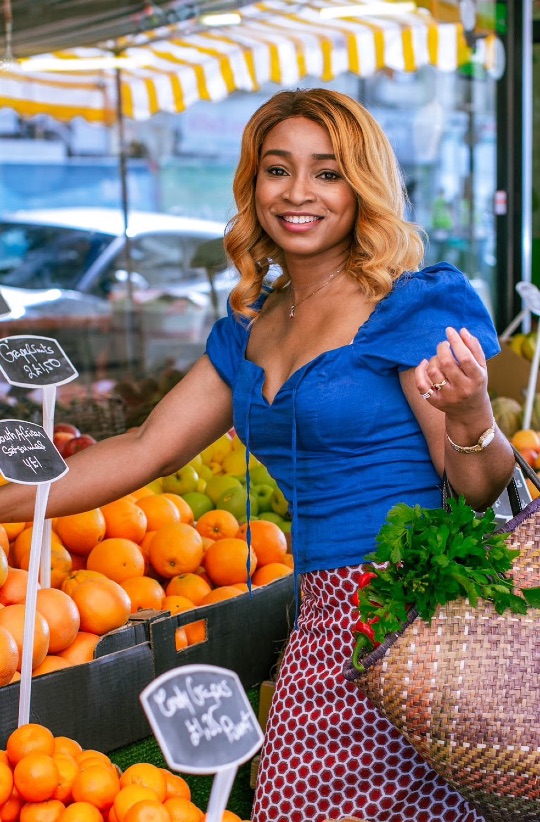 What inspired you create your business?
"I always loved hosting, feeding people and watching their faces glow with delight at every morsel. "
Our feasts started as gatherings, supper clubs where strangers would come together to share long table feasts, but the more our guests asked for recipes to their wonderful meals, the more I found myself sharing recipes, stories from my childhood, from my travels and inspiration for the dishes they enjoyed.
Soon after corporate catering requests came flooding in, and I started being invited to collaborate with amazing brands especially with those who shared our vision to share vibrant African recipes. As I realised how impactful these feasts were, I was inspired to start a cookery school that would truly help bring these wonderful traditions closer to homes and plates of food lovers in the UK and beyond.
What does me time mean for you?
Me time is incredibly important to me, especially since my world revolves around others. Neither the business nor my personal life leaves much time for selfcare. My job is more like a lifestyle, and so I make time to enjoy the little things as often as I can and a bit of indulgence too. This may sound unusual, but cooking does soothe me; it could be stirring a stew slowly, baking spiced banana bread or melting fairly traded dark chocolate for an indulgent hot chocolate. I also take time daily for pampering facials, skincare and haircare.
What is your most treasured routine?
Each morning I find myself in a bit of a trance while slowly massaging my face with my favourite moisturiser. I have also developed the habit of using leftover cleanser from massaging my face to wash my hands. If it's good enough for my face, surely it must be good enough for my hands too.
My hands are very busy due to the nature of my job and so every other day I use the Malée Verdure Conditioning scrub to keep dry skin at bay. And for an even more luxurious treat daily, I use the Verdure Moisturising Oil to moisturise my entire body while still slightly damp after a shower. It leaves my skin, soft to the touch with an invigorating aroma that sets me up for a bright day ahead.
Conclusion
Lerato Foods & Naturals is one of our favourite women led businesses and we are proud to be celebrating this women's day along with Lerato Foods cooking classes with a giveaway. A chance to win a self care bundle worth £315. You can enter HERE.
Join us Live on Instagram for a live chat with Lerato on her entrepreneurial journey and cook along with us on the 2ndof March 2021, 6:00PM (GMT). Don't miss out, Save the event in your calendar.
Shop This Post