As lovers of chic interior design, we are huge fans of Eva Sonaike. Eva Sonaike is a London-based Interiors company specialising in luxury home textiles and soft furnishings. Furthermore their vibrant, yet elegant West-African aesthetic makes them unique. The company's ethos 'Bringing Colour to Life' is reflected in its signature collections of cushions, rugs, furnishings, lamps and interior textiles designed by Eva Sonaike.
Founded by Creative Director Eva Sonaike, born and raised in Germany and is of Nigerian origin. Eva Sonaike graduated with an MA in Fashion Journalism from the London College of Fashion, where she specialised in contemporary African fashion and textiles.
After an editorial career working as UK Fashion Editor for one of Germany's leading magazine publishers for six years, working for titles such as German Elle, InStyle and Focus from their London office. Driven by her enormous passion for African fabrics and interior design, she set up Eva Sonaike the interior design business in 2009 with a mission. To bring the vibrancy of African colours and aesthetics to the luxury home-décor and interior design market. While taking the best elements of both cultures to inspire her work. Her designs draw from the two distinct influences of colourful African textile traditions and European antique and mid-century furniture.
A unique interior design concept that is focused on bringing colour to life while celebrating a luxury African way of life, that perfectly complements modern contemporary living.
Eva Sonaike's products have been stocked worldwide in prestigious stores such as Liberty, Fenwick of Bond Street, Amara and Selfridges in London, Globus in Switzerland, Temple Muse and Alara in Lagos, ABC Carpet & Home in New York and Indigo Living in Hong Kong and Dubai. Over the years her unique interior design and products can be found in some of the worlds leading interior design residential and corporate design projects, such as the Kanuhura Resort in the Maldives (HBA), Hubert Zandberg Interiors and Palecek Hospitality.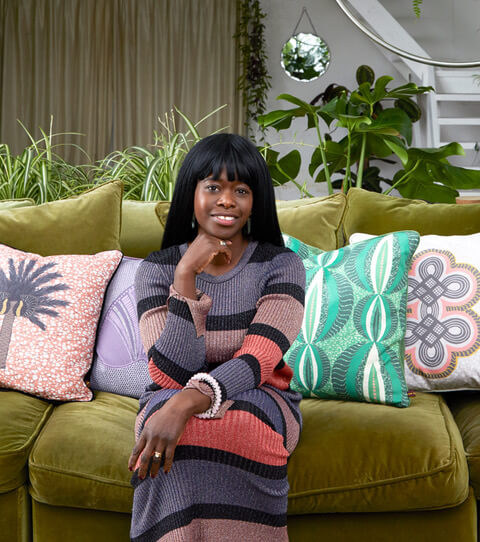 What we love about Eva Sonaike's Interior Design?
Emphasis is placed on hand finishing, distinct designs and high-quality manufacturing.
Want to learn more about Eva and her entrepreneurial journey? We sat with Eva and asked her a few questions:
What inspired you create your business?
I was desperately looking for soft furnishings with a vibrant African aesthetic in a high-end finish. Everything available was either in a Safari themed black and white zebra print or African-inspired textiles of a lower quality, so I took things into my own hands and created a brand that specialised in luxury African interior textiles and soft furnishings.
What does me time mean for you?
Me time is something very important to me and is now always easy to 'access' as a mother, wife and businesswoman. It means doing something good for me that nourishes me emotionally and/or physically and is solely for me, myself and I. I make sure to book time out for myself regularly and can see how it helps me with the overall growth as a woman.
What is your most treasured routine?
I have an easy morning prayer and meditation routine that I do every day, year in year out. I am en easy riser, so it means I have at least 30 minutes to myself every morning, where I give thanks, ask for guidance and just breathe.
Conclusion
Eva Sonaike is one of our favourite women led businesses and we are proud to be celebrating this women's day along with Eva Sonaike's interior design cushion with a giveaway. A chance to win a self care bundle worth £315. You can enter HERE.
Join us Live on Instagram for a live chat with Eva on her entrepreneurial and inerior design tips on the 23rd of February 2021, 5:30PM (GMT). Don't miss out, Save the event in your calendar.