Firstly, sleep time is important us here at Malée. Most importantly, waking up with smoother skin and silkier hair is our business. While our products like our Verdure Moisturising Oil offer you the chance to get healthy hair and glowing skin, the right pillowcase can make all the difference to hair and skin.
While our top pick for sleep time pyjamas, pilow cases and sleep masks is Nightire. A woman led sleepwear brand that's all about helping you with sleep time for a good night's sleep with their bamboo pyjamas and sleep accessories.
In addition to their well-known pyjama range. Their range of beauty pillowcases is their latest launch.
The sleep time brand, known for its summery and fun prints, inspired by the founder's Nina Clark always-sunny home country and founding home for Malée, South Africa.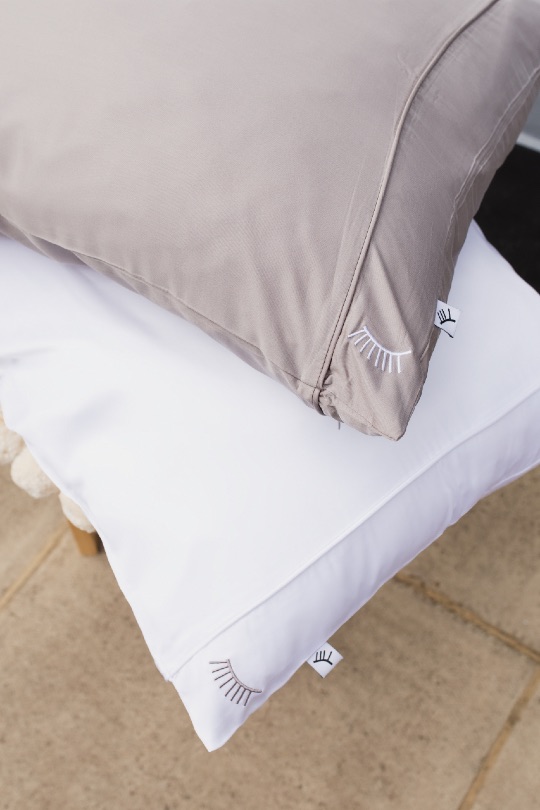 'I wanted to create a brand that broke through the plain vanilla mould of the current industry bigwigs, to spice up the sleepwear industry with standout imagery and a relatable tone of voice. I coupled that vision with the need for a product that is not only beautiful but benefit-driven, which is how the idea for Nightire came about' says founder Nina Clark.
Sleep time is the best time to repair skin, after a long day of your face being exposed to pollutants, the sun and blue light. Skincare and good hair care habit help with caring your skin and hair.
What is the best fabric for sleeping?
The fabrics we lay our heads on at night play a role in how well our moisturisers, treatments and serums work. Whilefabrics like cotton sap the moisture from your skin and creams and worsen sleep creases due to the folds that form on your pillowcase.
This moisture loss, compounded by night after night of collagen-weakening sleep lines, is bad news for your complexion, as it depletes skin elasticity which could cause the lines to form permanently over time.
Enter Nightire's sleep time solutions in the form of their 100% organic bamboo pillowcases and eye masks. Bamboo is the softest fabric you will ever lay your head on. It's anti-microbial and hypoallergenic, as well as thermo-regulating, which means it'll keep your head cool in summer and warm in winter. It's also sweat-wicking, smoother than cotton, and wrinkle-resistant. The trifecta for sleek, plump skin and hair come morning.
What we love about sleep time with Night Tire?
Nightire's sleep time pillowcase are made of 100% organic bamboo – a fabric that is as soft as silk but much kinder to the environment (grows sustainably and is vegan).
Want to learn more about Nina and her entrepreneurial journey? We sat with Nina and asked her a few questions.
What inspired you create your business?
Nightire was born out of a personal quest to understand sleep, and all that it entails, a bit better. Like many folks I know, I have this thing called can't-always-shut-my-brain-off-to-go-to-sleep syndrome. I overthink everything and am that person who constantly makes lists in my head and who worries about things that I can't change; all while lying in bed at night waiting for sleep to set in. This led to a few years of having a rather patchy sleep routine. I began doing research into what could help a person sleep better and tried to apply it in my nightly routine: using black-out blinds, taking a relaxing bath, using no screens in the room (i.e., goodbye to Insta-sessions right before bed), and trying anything I could to keep my body temperature on an even keel. That included buying the right sleepwear, which, in turn, got me to focus on an industry that seemed like it had some room for functional innovation (and a bit more personality), which is how the idea for Nightire came about. To create sleepwear that would aid your sleep, is beautiful enough to wear out and about, and bring some vibe back to the bedtime tribe. Not many people care what they wear to bed, which is a shame as you spend about a third (and most important part) of the day in your PJs. We're happy to shell out for fancy suits and pencil skirts, but when it comes to our home-wear; a grubby pair of last year's shorts and a freebie t-shirt from that 5km run we did once upon a time, will do.
What does me time mean for you?
Personally, me-time means whatever I need at that point or on that day to help recharge my batteries. Sometimes it might be a run or some other way to get active, other days it might be a bit of vegging out on the couch with a G&T and an indulgent romcom, or TLC in the form of a face and hair mask and some nail therapy. I also love the part of me-time just before bed, when you can enjoy reading a good book, journal and reflect on the day that's been, or just lie there daydreaming before nodding off. I do think sleep is of course the ultimate me-time.
What is your most treasured routine?
My pre-bedtime routine is my most treasured and rarely differs from one day to the next (I love a set routine and habit). One hour before bed, I start turning down the lights, put my phone away, brush up and jump in my PJs and spray my pillows with linen mist. Then it's onto that good book, journaling and setting my Lumie alarm for a gradual wake-up come morning, before I turn in.
Conclusion
Nightire is one of our favourite women led businesses and we are proud to be celebrating this women's day along with Nightire's sleep time 100% organic bamboo accessories with a giveaway. A chance to win a self care bundle worth £315. You can enter HERE.
Join us Live on Instagram for a live chat with Nina on her entrepreneurial journey and changing sleep time for better skin and hair health on the 24th of February 2021, 5:30PM (GMT). Don't miss out, Save the event in your calendar.